BAC HA MARKET REVIEWS - REVIEW BAC HA MARKET TOURS - FEED BACK FOR BAC HA TOURS


Bac Ha Town

| 137 Hang Bac Str,Hanoi,

Bac Ha

19000

,

Vietnam

E-mail:bachamarket@gmail.com
38

Reviews
Type: Flea/ Street Markets
Owner description
: This lively and crowded concrete bazaai is the main market in Bac Ha proper. It draws large numbers of Flower H'mong from the surrounding hills. The...
more »
Useful Information: Activities for young children, Activities for older children
Update attraction details
Write a Review

Contributor
19 reviews
7 attraction reviews
Reviews in 12 cities
7 helpful votes
Reviewed November 23, 2012
There were many aspects to market day, Sunday. On a barren looking area there was a bird market, and a pony market. Then at the food and clothing market crowds of locals shopping, choosing new items of clothing and trimmings, corn spirits being consumed, "food hall", kitchen ware, etc. We enjoyed a few meals at a tourist friendly venue at... More
Was this review helpful?
Yes
Problem with this review?
AnthonyPM
San Diego, California
Senior Contributor
26 reviews
15 attraction reviews
Reviews in 8 cities
9 helpful votes
Reviewed November 11, 2012
We went to Bac Ha for the famous Sunday market and was disappointed by the hordes of tourist that were there. The market itself is pretty big and has some interesting scenes with people selling buffalo, goats, dogs, pigs, cats etc as well as traditional goods for the locals. We were there to try to photograph some of the hill... More
Was this review helpful?
Yes
Problem with this review?
jyansg
singapore
Contributor
11 reviews
5 attraction reviews
Reviews in 3 cities
5 helpful votes
Reviewed October 26, 2012
1
person found this review helpful
nothing much you could shop here. things that you see at sapa are mostly sold here at a higher price. so if you are intending to buy handicraft, get them from sapa directly since it is the hmong that does the embroidery. in this market, you will see trading on dogs, chickens, ducks, boars, horse, water buffaloes (basically any animals... More
Was this review helpful?
Yes
Problem with this review?
kidsonholidays
Hobart
2 reviews
Reviews in 2 cities
Reviewed September 30, 2012
We did a 2 day tour to Bac Ha with " Way to Vietnam " tour group , it was amazing , well worth the effort if you have enough time . Our tour guide" Dong" was fantastic , he knew a lot of the locals and was full of information . We took our childern aged 9 and 11... More
Was this review helpful?
Yes
Problem with this review?
KianMing
Kuala Lumpur, Malaysia
Contributor
15 reviews
6 attraction reviews
Reviews in 8 cities
5 helpful votes
Reviewed September 30, 2012
Visited this market during my trip to Sa Pa. Followed local tour organized by hotel but too bad since its day tour,not much time allowed to shop around since the journey taken so much time and usually they will arrange the visit of Lao Cai town as well.You can snap a lot of minorities portrait shots over here especially those... More
Was this review helpful?
Yes
Problem with this review?
onelastwish
Turin, Italy
Contributor
20 reviews
7 attraction reviews
Reviews in 15 cities
14 helpful votes
Reviewed September 4, 2012
1
person found this review helpful
You don't really need an agency to do this, expecially if you come directly from Hanoi. If you go on your own by train, the shortest and fastest way is to get out at Pho Lu, and then take a minivan. (it departs from the small square in front of the train station). Cost is 100000 dong, with no bargain... More
Was this review helpful?
Yes
Problem with this review?
Tamaragw
Top Contributor
64 reviews
38 attraction reviews
Reviews in 19 cities
18 helpful votes
Reviewed August 3, 2012
The Bac Ha Market is a very colourfull event. The Flower Hmong wear beautiful coloured traditional clothing. The market is very busy and in a way touristic too. The life stock that is sold on the market (dogs, chickens, pigs etc) is a little less nice to see, on one hand you can understand people have to make a living,... More
Was this review helpful?
Yes
Problem with this review?
NettyA
Brisbane, Australia
Top Contributor
95 reviews
36 attraction reviews
Reviews in 56 cities
49 helpful votes
Reviewed July 2, 2012
Loved wondering around this fascinating market. Didn't have trouble with taking photos of people. Though some waved no and we complied with that. We stayed overnight so wandered around the market while it was being set up and much quieter. As someone mentioned, be careful of being ripped off with coffee and nuts etc. It happened to some of our... More
Was this review helpful?
Yes
Problem with this review?
crosis
Wanganui, New Zealand
Senior Contributor
39 reviews
21 attraction reviews
Reviews in 14 cities
21 helpful votes
Reviewed June 24, 2012
3
people found this review helpful
If you are heading up to Sapa try to time it so you can see the Bac Ha market on the Sunday. It is an amazing place. At the front are a lot of more tourist focused stands but go behind and you will see the food area, the local stands, and then further back the livestock markets (horses by... More
Was this review helpful?
Yes
Problem with this review?
utherpen a
Melbourne
Reviewer
4 reviews
Reviews in 4 cities
5 helpful votes
Reviewed April 17, 2012
2
people found this review helpful
loved everything about this market. wasnt really hassled much to buy stuff. Only problem is the locals dont like you taking photos of them and want to be paid.
Reviewed September 9, 2011
person found this review helpful
We visited the Bac Ha Market as the part of our 4-days stay in the mountains. Although it was quite far from SaPa, we liked it very much! You can find there some typical souvenirs for turists but you can also find the typical market for the usual people living in that region. You can see colorful costumes of members of minorities (Black Hmongs, Flower Hmongs, ...) and taste their usual food.
I recommend to visit this Market! Find the usual market for usual people, find their costumes, their food and their culture!
Reviewed April 18, 2011
99
People found this review helpful
Along with many of the market tours, a boat trip is included. You are dropped off at a small village, where you can walk to a riverbank where boats are waiting to take tourists down a sandy river. Not much to see. You can avoid the walk by opting for a wooden cart pulled by a water buffalo. Skip it!
Reviewed March 3, 2011
This Place really made our trip a memorable experience.We joined the tour with company in Hanoi. He picked us up from the station, showed us around town,On our trek we saw some amazing scenary, stayed with two different local familes and ate some really authentic food - Sapa was the highlight of our visit to Vietnam .
less
Was this review helpful?
Yes
Melbourne, Australia
26 reviews
22 helpful votes
Reviewed December 12, 2010
100
person found this review helpful
The Sunday Bac Ha market was the highlight of our 2 wk trip to Vietnam. The swarms of Flower Hmong tribe wearing their spectacular costume is a breathtaking sight. This market offers fresh produce, meats, rice wine, livestock, pets, tribal wares and great market food too. I would highly recommend incorporating a visit to the Bac Ha market into your Sapa itinerary.
Luxembourg City, Luxembourg
35 reviews
11 helpful votes
Reviewed November 18, 2010
An astounding experience, and yet parts were slightly overwhelming. The weekly market was packed full with native Flower H'mong decked out in their traditional costume. Outer edges of the market sold tourist souvenirs and it wasn't until the center square that one found the H'mong actually buying things themselves: meat, vegetables, chili paste, cloth, beads and of course, rice hooch. Bac Ha itself is rather small with very few restaurants during the week, but a great starting place for treks.
Bac Ha Market
The Sunday market in Bac Ha is where you'll want to stock up on water buffalo, pigs and horses. Once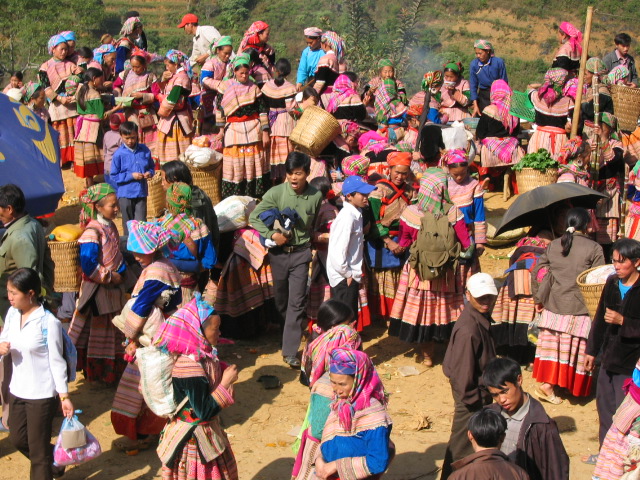 you're all set, you can browse for bottles of local firewater (made from rice, cassava or corn) or handicrafts made by some of the 10 Montagnard groups living near here - Flower Hmong, Dzao, Giay (Nhang), Han (Hoa), Xa Fang, Lachi, Nung, Phula, Thai and Thulao.Bac Ha is a less crowded alternative to Sapa, and arriving midweek makes for a relaxing visit. Around 700m above sea level, the highlands around Bac Ma are somewhat warmer than Sapa. Bring ear plugs so you needn't endure the 'Voice of Vietnam' echoing from the loudspeakers at market-rousing time.
Hours: Sun
Can Cau Market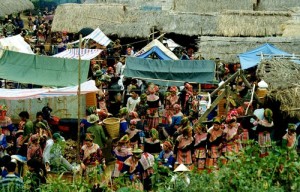 Sprawling near the banks of a river,
Can Cau
Market is a clearly defined shantytown, packed with crude stalls covered with thatched roofs. The start of a few simple settlements can be seen high above, many of whose residents now make their weekly pilgrimage to the market. We are only 9kms from the Chinese border and some traders make the journey across from China on horseback. Unfortunately foreigners are not allowed to reciprocate this set-up, however tempting it may seem.
By 9 am, the market is crammed to capacity. It's lively and surprisingly fun. The locals are mostly of the
Flower Hmong
minority group. You can't miss them -their traditional costume of green checked headdress and multi-colored, meticiculosly stitched and layered garments are simply stunning. Few foreigners make it to
Can Cau;
those that do brave the journey come either with a small tour group in four-wheel drives, or - if half-mad and on a tight budget like me -on the back of a motorbike. The handful of Westerners here this morning are the object of intense - though friendly- scrutiny. There is much laughter as we try to make basic conversation. Although the majority are painfully shy and not accustomed to seeing foreigners, some cheerfully allow photographs to be taken.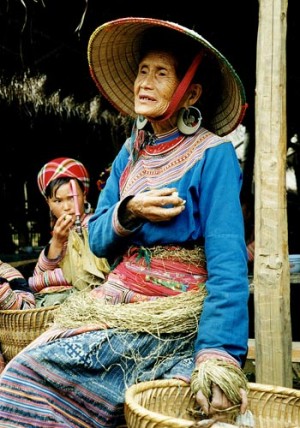 Can Cau
is predominately a livestock market and not the sort of place to buy some choice gifts for the folks back home. Beyond the fenced-in perimeter, pot-bellied pigs, chickens and water buffalo wait patiently by the river to be sold. They rub shoulders with magnificent wild horses, some of whom will be transporting their masters back over to China. But the market also sells the basics: traditional clothing, sacks of rice, bundles of coarse, raw wool and ironware. Some stalls sell fresh tobacco and a rather sad array of root vegetables. Many women sell their wares from large, wicker baskets and sit weaving whilst waiting for a sale. I note that there are many giant plastic containers lying around with attached tubes. I mistakenly think this is gasoline, but it is in fact the omni-present rice wine and some folk are spotted wisely filling up their water bottles for the long ride home. Food stalls serve bowls of steaming fat noodles in broth and indescribable plates of what I can only assume are some sort of animal innards. It is almost like being transported back in time. There are few traces of the outside world, save the occasional soccer tee-shirt cast off and digital watch. As I observe the incredible costumes, deep shyness and the dark, weather-beaten skins, it is hard to imagine that this is the same country as freewheeling Saigon City in the south. It might as well have been on another planet.
Sapa Love Market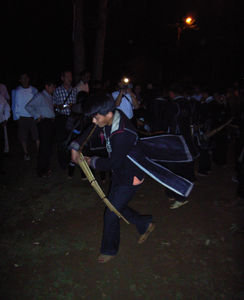 Sa pa is famed for its "Love Market" – sort of a cross between a peacock mating ritual, a Middle Eastern arms bazaar, an Amish square dance, a bad Pavarotti concert and Bangkok's Patpong (except here the people wear clothes). On Saturday nights, Red Dao hill tribe youths of both sexes congregate in a weekly courting rite, singing tribal versions of Loretta Lynn love songs to woo the opposite sex. The songs are highly personalized and boast of the composer's physical attributes, domestic abilities and strong work ethic. While Dao women are indeed highly industrious, the men, it seems, prefer to spend most of their time drinking, smoking opium or sleeping, only occasionally slapping the rump of a lethargic bovine moving more slowly than they are. Few of their songs, though, are about drinking, smoking opium, sleeping or slapping rumps
Binh Lu & Tam Duong Market - Sunday

Every Sunday from 8 am to 1 pm.
Binh Lu and Tam Duong market is located on the other side of Sapa, passing the 1900 meter Tram Ton pass, Viet Nam's highest mountain pass and considered the most beautiful stretch of road in the country. The town is bustling with activity as the local hill tribes gather for their weekly market day, amazing tribal markets in Binh Lu where thousand of Thai Kadai language groups such as Tai Lu, Tai Laos, White Tai, and H'mong - Yao group (black Yao, Yao Lantien..), Giay, Khomu.. comes to buy and sell their own produces.
Coc Ly Market - Tuesday
From 7 am to lunchtime
Off the beaten track. Several groups of Mong, Dao, Tay, Nung and Phu La groups can be found in this secluded mountain market. Return back by boat down the river Chay and marvel at the untouched natural beauty of the region
Muong Hum Market - Sunday
Every Sunday from 6 am to 1 pm.
This market is the biggest cardamom market in the region, pre-dating the French and serves as a meeting point for the ethnic groups living in the mountains; including the Giay, Dao, White H'mong and Ha Nhi. Those who live in the upper reaches of the mountains such as the Mong or Red Dao come down to sell specific products such as cardamom and mountain plants. In Muong Hum, it's worth taking a sip of the local brew - here it's paddy rice brandy from the Dao village of San Lung. It's become quite a famous tipple.
Muong Khuong - Sunday
Every Sunday from 6 am to 1 pm.
Big market with a variety of ethnic groups, Mong, Dao, Nung and others, including visitors from as far away as China come to sell their products. Pa Zi women can be found selling traditional incense made from bark and resin of scented trees.
Sapa Daily Tours
Sapa 2days - Homestay Trip
Sapa 2day tour - Hotel Stay Tour
Sapa 3days - Homestay & Hotel
Sapa 3days - Homestay Tour
Sapa 3days - Hotel Stay Tour
Sapa 4days - Homestay & Hotel
Fansipan Adventure Trek Tours
Sapa Photos & Information
Train Tickets to Sapa & Bac Ha
VIP Private Cabin - 2berths Only
Dong A Express Deluxe Train
Tulico Express Train
Et Pempkin Express Train
Friendly Train Coach
Victoria Express Train
Train Tickets in Vietnam
Sleeper Open Bus in Vietnam
Promotion Tours & Hotels
Vietnam Package Tours

Hue Hoi An Excurstion

VN Highlights 7days

Vietnam 12days

VN Spectacular 14days

Vietnam Royal 17days

Vienam Angkor 14day

Indochina Tour 18days

Mekong Boat Tours

Siem Reap Angkor Wat Tours

Hanoi Cheap Hotels

Tours Du Lich Vietnam

Halong Bay Vietnam

Nha Trang Beach Vietnam

Dien Bien Phu Tours

Phong Nha - Hue Tours

Hai Phong Tours & Hotels

Vietnam Voyages

Perfume Pagoda Trip
Ninh Binh Hoalu Tamcoc Trip

Link Exchange to Us
Weather in Vietnam
When to Visit Sapa & Bacha Market
Book us now
Back home
;
Sapa & Bac Ha Market Weather