Night 1 :
19 h30 pickup at the hotel. Transfer to railway station for a night train at 21h30 to Sapa. Overnight on train.

Day 1 : Laocai -Sapa -Catcat village - Laochai - Tavan Village (B,L,D) 6 hours trekking 17 km, 3 villages.( Overnight at Tavan village )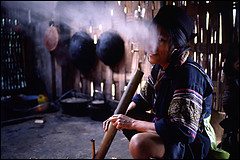 Picked up at Laocai Station early in the morning by our bus. Arrive at Sapa round 8:00 AM; Breakfast. Start at 11:00 AM by jeep to the first village of the black H'mong (Catcat), walk around visiting people in the village and the hydroelectric power station built by the French in the old days. Take the paths along the valleys between mountains to get to Laochai village. Enjoy the overall pictures of the villages among terraces. Visit the H'mong living in wooden and bamboo houses. Continue going to Tavan village to visit the Dzay minority. Stay the night in Tavan village at a Dzay family. Picnic lunch on the way and dinner at the home-stay.

Day 2 : TaVan -GiangTaChai Villages - Sapa town( 5 hours trekking, 12 km, 2 villages.)(B,L,B)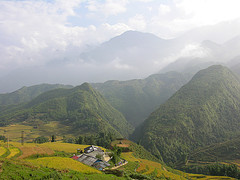 Get up early in the morning to enjoy the daily life of the ethnic minorities in the village. Breakfast; take the road to GiangTaChai village of the Red Dzao minority via the paths between terraces and through bamboo forests. Visit silver waterfall and suspension Rattan Bridge, visit the people in the village and then cross MuongHoa River up to the mountain to visit the last village of the trek - Supan village of the H'mong. Get back to Sapa by jeep. Free time for shopping in Sapa market .Dinner and stay overnight in Sapa Town
Day 3 : Sapa - Can Cau Market - Bac Ha Town (B.L,D)
7h00 Transfer to CanCau market. It takes more than 2 hours to get to CanCau - a small market situated in a valley surrounded by mountains and only 7 km from China. The market deeply shows the typical cultural features of the minorities in remote mountainous areas in Vietnam. Further more, you can enjoy seeing boys and girls in colourful costumes - different colours of the mountains. They attend the market in the hope of finding "the other halves of their lifves" and this is also the time for them to chat, to exchange everything among different ethnic peoples through cups of wine sold in the market. Say goodbye to the market and transfer to Bac ha for visiting a village of the Flower H'mong .Check in hotel ,dinner and stay overnight in Bac Ha Town
Day 4 (Sunday):Bac Ha Market - Lao Cai Station - Ha Noi :(B.L,D)


A walk to BacHa market. Visit one village and an old building called The H'mong king's house. Breakfast and the beginning of the day on which you visit a big market filled with many different hill-tribe peoples. This is the most colourful market in North Vietnam. At the market, you have chance to enjoy BacHa people's simple but unique kinds of food with special wines made from rice, cassavas, corn and different sorts of fruits such as plumps, apples, peaches... talking to the minorities through the guide's interpretation. Leave the market for the H'mong King's house (King Hoang A Tuong) built by the French colonists and the Chinese in 1920. Return the town for lunch. In the afternoon, spend time visiting another village (BanPho village) Say good bye to BacHa and get back to Sapa. On the way back, drop in to see the Vietnamese and Chinese Harbor Mouth in LaoCai . Overnight Train back Ha Noi .
Arrive Ha Noi at 5 h00 . End of great trip.
Rate :USD/person

1pax

2pax

3pax

4pax

5 pax

6pax up

650

390

350

335

310

295

690

445

410

395

360

340

750

515

480

460

450

420

Tour includes:
-
Train
tickets 2 ways (soft sleepers, aircondition cabin 04 berth -
Dong A Express Train
)
- Tranport by bus Laocai - Sapa, Sapa - Laocai.
-
Homestay Accomodation
- All meals as dedicated itineary
- Entrance fees to the villages.
- English speaking guide.
- Jeep go and back as timetable.
Excludes:
Insurance,
Drinks, Phone calls and other private expenses